Friday, August 31st, 2018
If you have arrived here, then you probably received this secret link[*] from our mailing list email (or a friend who can't keep a secret!). Welcome, we are always glad to see you back here again.
Last year we kicked off our return from summer with a very special limited release of Navy Strength Rum (57%). It sold out immediately and we have been getting requests for a bottle of that limited release ever since (the answer is always "NO!", in case you're thinking to ask).
This year, to kick off our return, we're doing something even more limited...
Ontario Apple Brandy
Three years ago, when Yongehurst was just getting off the ground at our Geary/Westmoreland location, one of the first things we put into barrels was a batch of distilled apple cider that we made from scratch, by hand-picking all of the apples ourselves and turning it into what we know to be Ontario's first Apple Brandy.
We cut, crushed and pressed the juice from every single one of those apple ourselves, then fermented the juice to dry, distilled it, and let the "eau de vie" spirit rest in a Canadian Oak barrel for three years.
A year later, we wanted to add to our stock; but this time we levelled up. With the help of our friends, we hand-picked a few thousand kilograms more apples from a ("secret") abandoned apple orchard in Toronto, and undertook the same process. We also set that spirit to rest in oak for two years along side its sibling.
On Saturday, September 8th, 2018 at 12:00pm (noon), we are releasing a very small batch of this hand-made apple brandy to our friends and family to kick off the fall season.
This limited invitation is a thank you for standing by us as we scale-up our small distillery.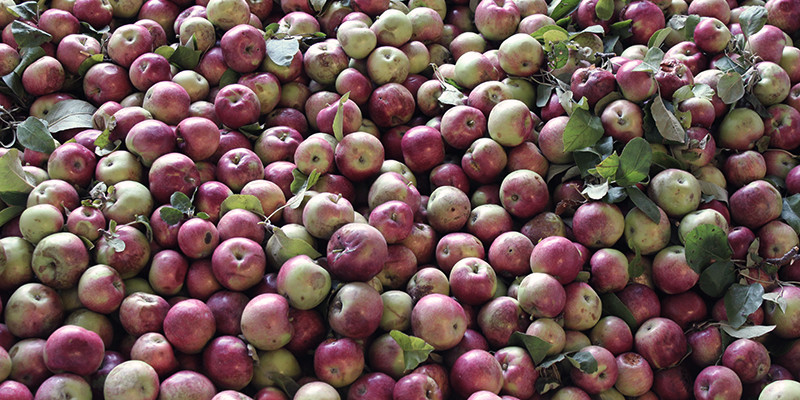 About The Process
Apples are one of Ontario's tastiest and most plentiful argicultural resource. Our climate is perfect for growing hundred of different apples varieties. As you have seen from the recent boom in Ontario dry cider, we are finally putting our apples to one of it's tastiest uses - fermentation!
Not a single one of our apples were bought at the market, farmed out, or processed by industrial machinery. All of our apples were wild-grown, without the use of pesticides. Every step of the process was done by our hands, in house - no purchased juice. We took on the entire process in-house (including the wasp stings and fruit flies).
All of the apples were chopped and crushed for pulp (our methods varied between years), then pressed through netting bags placed in an old wooden #50 ratchet wine-press.
We did all of that in-house, from start to finish, to ensure the highest quality end-product for you to enjoy!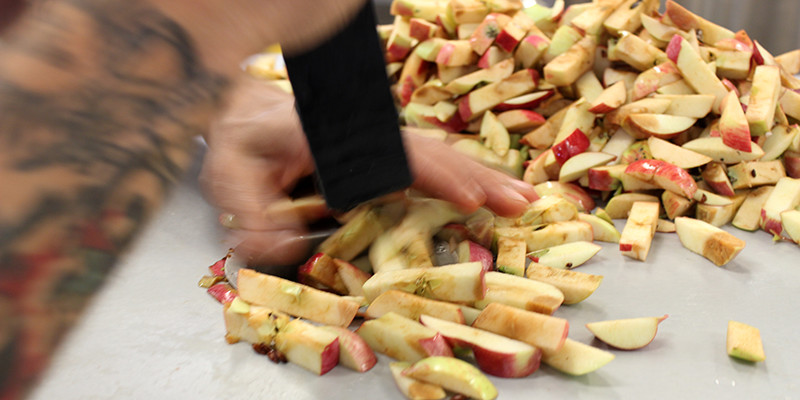 Apple Brandy, Eau de Vie, Calvados…?
Because we're all about the education here at Yongehurst, here are few terms you may not be entirely familiar with, but might be curious about understanding:
Eau de Vie: A french term to describe un-aged clear spirit distilled from fermented fruit juice, including wine or apple.
Brandy: A general term for barrel-aged eau de vie. When a fruit type is not specified, it usually refers to grape wine that has been distilled to eau de vie and aged in oak barrels.
Cider: Grapes are pressed and fermented into wine, apples are pressed and fermented into cider. Wine is higher in alcohol (usually around 12-14%) because grapes are much sweeter than apples (usually closer to around 7-8% abv in the end). Referring to a cider as "dry" means all of the primary sugar was covered to alcohol, so it is no longer sweet to the taste.
Apple Brandy: Specifically referring to a distilled apple cider, made into an Eau de Vie, that has been aged in oak barrels.
Calvados: As Cognac is a regional brandy from Cognac (France), Calvados is a regional apple brandy from Normandy (France). To simplify: Calvados is apple brandy from Normandy.
Now you know!
Yongehurst's Philosophy
To provide context (at the risk of simplifying and taking some liberties), apple brandy is to cider, what whisky is to beer. We started by pressing and apples into cider, then double distilling that into a clear eau de vie in a pot still, affixed with a short column to separate some of the less desired flavours away from the finished spirit.
Aging the spirit in barrels at a higher proof, allows is to character from the oak, including vanilla, caramel and some perceived sweetness. Aside from barreling, we believe that good spirit doesn't need any additional flavouring or added colours. Most brandy, including Calvados, has sugar, colour or flavour added (the French often refer to this as "dosage").
Although we love Calvados, as you probably know from our philosophy on rum, one of the things we at Yongehurst believe is that a spirit should stand on its own - without additives! While you can make a spirit more palatable to the average drinker by sweetening it, we believe that decision should be left up to the person enjoying it.
Our spirit is good enough to be sold dry (no sugar or glycerine added), unfiltered, and with its colour taken 100% from the barrel's toasting - nothing added, nothing taken away!
(Very Limited) Availability
As with other small-batch releases, this will probably only last on the shelf a day or two. Arrive at noon sharp to avoid disappointment. We can not emphaises enough how exclusive a release this is.
Additional details on price, packaging and conditions will be coming shortly though email. If you are not already on our mailing list, you should sign-up now on our home page to get this and other major updates.